News
CAMLogic instruments for revamping
09/04/2021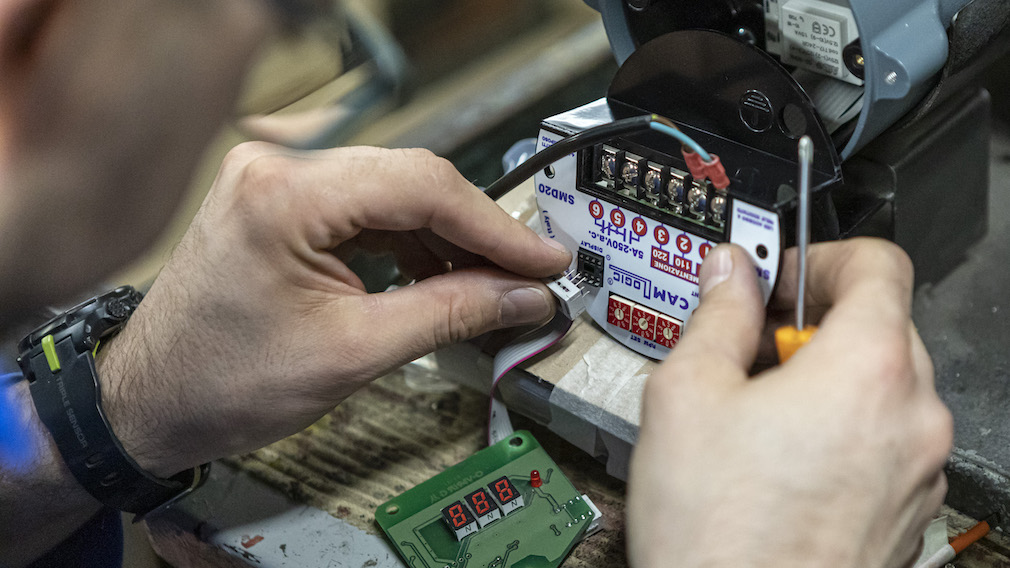 After the previous
technical insights
on the updating of industrial plants and machinery, the time has come to explain what ATEX revamping means for CAMLogic. We will begin by affirming that the concept of security is realized by universally shared good working practices, by obtaining product and process certifications and by the ability to respond adequately to the evolution of the applications of control and measurement instruments.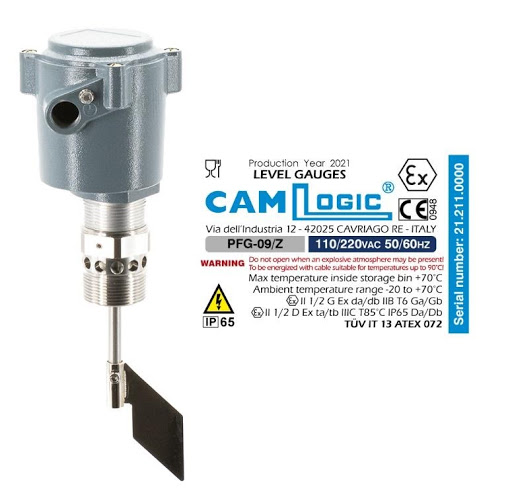 CAMLogic is ATEX certified since 2004
In 2004 CAMLogic obtained, and maintained ever since, the ATEX certification on many models of its range usually installed even in areas of the process at risk of explosion.
After obtaining the first certifications, in 2014 the PFG09 rotary level indicator went into production, specifically designed with the assistance of Ing. Fabrizio Bellini to satisfy the extremely tight requirements for installation in the presence of potentially explosive gases.
Where there is a risk for companies and their associates engaged in work activities, it is essential that all the necessary precautions are taken to limit its occurrence as much as possible. The possibility of an explosion caused by the normal chemical or physical processes implemented during the handling and storage of potentially flammable materials must therefore be limited and circumscribed.
CAMLogic choices on ATEX revamping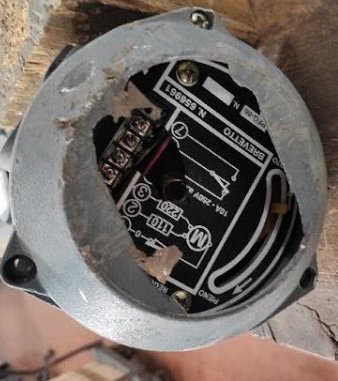 Level indicator still working but tampered with
With regards to CAMLogic, as a safety method for Ex-dust instruments, protection by enclosure (protection principle t) was chosen and for Ex-gas the creation of a flameproof enclosure (protection principle d).
The installation of instruments in a plant and the relative maintenance through the years must be handled with the utmost care and by regularly trained personnel, even more so in the case of explosive dusts or gases. It is essential to apply the standard security regulations and Directive 1999/92/EC, which requires compliance with the instructions of the manufacturer of the ATEX certified product without any kind of tampering (as in the attached images). This could, in fact, compromise its functionality, under penalty of loss of the ATEX certification itself, as well as the product warranty.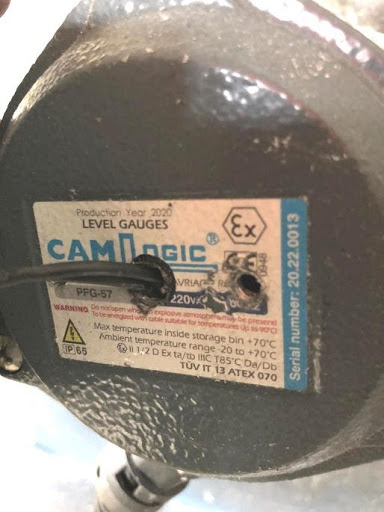 As mentioned previously, CAMLogic has several instruments with an ATEX certification, for dusts and/or gases. The following reference table shows the markings available for the instruments and its explanation, to better understand which ATEX revamping activities to carry out.
CAMLogic offers a status assessment service with expert intervention on the subject and follows the updating process. Contact us if you want to increase production without changing the plant.
| | | | |
| --- | --- | --- | --- |
| | INSTRUMENT | MARKING | EXPLANATION |
| | ILP3 | II 1 D T85°C IP65 | Zone 20 – Dusts – Very high protection - Maximum surface temperature reached by the instrument 85°C |
| | PFGLP | II 2GD Ex d IIB T4 Ex tD A21 IP65 T135°C | Zone 1 – Gases – High protection Zona 21 – Dusts – High protection – Maximum surface temperature reached by the instrument 135°C |
| | SMD20 | II 2D Ex tD A21 IP65 T87°C | Zone 21 – Dusts – High protection - Maximum surface temperature reached by the instrument 87°C |
| | PFG57 | II 1/2 D Ex ta/tb IIIC T85°C Da/Db | Zone 20 (inside) and Zone 21 (outside) – Dust - High protection - Maximum surface temperature reached by the instrument 85°C |
| | PFG09 | II 1/2 D Ex ta/tb IIIC T85°C Da/Db Ta= -20°C ÷ 70°C II 2G Ex d IIB T6 Gb Ta= -20°C ÷ 70°C | Zone 1 – Gases – High protection Zone 20 (inside) and Zone 21 (outside) – Dusts – Very high and high protection - Maximum surface temperature reached by the instrument 85°C |
| | PFG09Z | II 1/2 D Ex ta/tb IIIC T85°C Da/Db Ta= -20°C ÷ 70°C II 1/2G Ex d IIB T6 Ga/Gb Ta= -20°C ÷ 70°C | Zone 0 (inside) and Zone 1 (outside) – Gases – Very high and high protection – Zone 20 (inside) and Zone 21 (outside) – Dusts – Very high and hugh protection – Maximum surface temperature reached by the instrument 85°C |
| | PFG05 | II 1/2 D Ex ta/tb IIIC T85°C IP65 Da/Db | Zone 20 (inside) and Zone 21 (outside) – Dusts – Very high and hugh protection – Maximum surface temperature reached by the instrument 85°C |
| | PFG06 | II 1/2 D Ex ta/tb IIIC T90°C IP65 Da/Db Ta= -20°C ÷ 70°C | Zone 20 (inside) and Zone 21 (outside) – Polveri – Very high and hugh protection – Maximum surface temperature reached by the instrument 90°C |
| | PFGLP22 | II 3D Ex tc IIIB T135°C Dc | Zone 22 – Dusts – Protected – Maximum surface temperature reached by the instrument 135°C |
| | MN03 | II 3 D Ex tc IIIC T85°C Dc | Zone 22 – Dusts – Protected – Maximum surface temperature reached by the instrument 85°C |